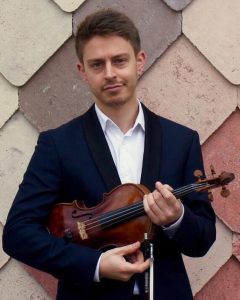 Guy Button – Leader 2018, 2019
Guy is a graduate of the Guildhall School of Music and  Drama Artist Masters Programme and completed his undergraduate degree in Music at Robinson College, Cambridge. He has appeared as chamber musician and soloist at the Wigmore Hall, St. Johns' Smith Square and many other high profile venues throughout the UK, Europe and Asia. He has performed concerti by Mendelssohn, Tchaikovsky, Mozart, Bach and Vivaldi and regularly appeared as a soloist with the European Union Chamber Orchestra, whilst filling the role of principal second violin. He works extensively in the world of historical performance and is a regular co-leader of Gramophone award winning ensemble, La Serenissima. He is principal second violin of the 12 Ensemble, London's unconducted string orchestra
Anna Smith – Guest Leader October 13 2018
Anna read music at St Catharine's College, Cambridge and then studied violin with Erich Gruenberg as a postgraduate scholar at the Royal Academy of Music. She has also won awards from the Martin Musical Scholarship Fund and the Countess of Munster Musical Trust. Anna is a member of the 1st Violin section of the BBC Symphony Orchestra, violinist in the Elgin String Quartet and leader of the Jersey Chamber Orchestra and the Little Orchestra.
Aside from the BBCSO, Anna has worked with most of the UK's professional orchestras, with several in a principal role. As a guest she has performed as Principal 2nd Violin with the Royal Philharmonic, BBC Symphony, Bournemouth Symphony and Royal Liverpool Philharmonic Orchestras, as leader of the St Endellion and Presteigne Festival Orchestras, Orpheus Sinfonia and Sinfonia Cymru, and as Second Concertmaster of the Ostrobothnian Chamber Orchestra (Finland). As well as concerts with the Elgin quartet in the UK, Germany, Norway and France, Anna performs a great deal of chamber music.  She was a founder member of the Lawson Piano Trio, and has played as guest 2nd violin in the Tippett Quartet and guest leader of the Berkeley Ensemble.  She recently performed Brahms' Clarinet Quintet in the Jersey Liberation Festival with Michael Collins, Alexander Sitkovetsy, Rachel Roberts and Leonard Elschenbroich.
She enjoys pursuing projects outside of classical music, performing in Aladdin in the West End, in Live Lounge recordings for BBC Radio 1 with groups such as The Kooks, We Are Scientists and Cinerama, in sessions for COOL Music and English Session Orchestra, and participating in world music improvisation projects at the BBC.  She also works regularly with the BBCSO education department, conceiving and delivering family pre-concert workshops at the BBC Proms and the Barbican Centre, and has coached chamber music on the Pro Corda Primary Course.
Anna plays on a violin by Joseph Gagliano, thanks to a generous loan from the Abbado Trust.
Clare Kennington Leader 2015-2017

Clare Kennington was born in 1985 and began the violin at the age of four. She gave her first public recital when she was 13, after entering the Purcell School of Music. During her time there she recorded the composition of the winner of BBC Young Composer of the Year 2000, later aired on BBC Radio and gave a solo performance at the Polish Institute, Kensington, as well as leading the orchestra at St. John's, Smith Square. Clare went on to gain a Bachelor of Music degree at The Royal College of Music where she studied with Yossi Zivoni. In January 2009, Clare joined Southbank Sinfonia, UK's leading training orchestra for graduates, performing an enormous range of repertoire from Baroque to Contemporary, working and recording with many distinguished conductors, soloists, and orchestras, including Barry Wordsworth, David Hill, Tasmin Little, Raphael Walfisch, Academy of St Martin-in-the-Fields, and the BBC Concert orchestra to name a few. They also appeared on stage at the National Theatre in "Every Good Boy Deserves Favour" by Tom Stoppard and André Previn. During her time in Southbank Sinfonia Clare formed a quartet and they performed in No.11 Downing Street for the Treasury Music Society in 2009.
Clare has given many recitals in varied venues including Whitehall Treasury, Loseley Park, Polish Institute London, Royal School of Church Music and Woodhouse Copse, some of which were to help raise money for her 1743 Testori Violin, which she now owns. In 2002 she was named NADFAS Musician of the Year for her achievements and contributions to local arts.
She has performed concertos with orchestras including Bruch's Violin Concerto No.1 in G minor with the Sutton Symphony Orchestra, and the Shaftesbury Orchestra; Mozart's Violin Concerto No.3 in G major with the Dorking Chamber Orchestra, and Sinfonia Concertante with Thomas Leate and the Mozart Orchestra.
In 2011 Clare completed her Master of Arts degree at the Royal Academy of Music, studying with Lydia Mordkovitch, during which she earned a distinction in her LRAM teaching qualification. She now enjoys a varied freelance career with all kinds of performing, recording and teaching, most recently leading and co-leading the orchestra for recording a film score of eminent Indian musician and composer Ilaiyaraaja.