Dorking Chamber Orchestra is a small group of about 30 Surrey musicians, including professionally trained and experienced amateur players. We aim to perform to the highest musical standards,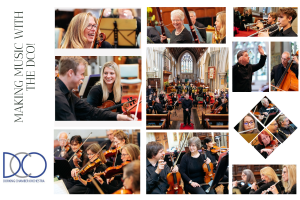 creating interesting programmes for our audience, combining classical favourites with lesser known chamber works and 20th century pieces.
The orchestra was originally founded in 1988 by local conductor and Haydn scholar Colin Gray, and we have maintained the form of orchestra developed by Joseph Haydn comprising strings, pairs of woodwinds and horns, with added trumpets and timpani for the larger scale works.
We perform three or four orchestral concerts each year in Dorking and the surrounding area and welcome occasional collaborations with local choral societies. We engage talented conductors and leaders, and give concerto opportunities to young soloists as well as some of our own outstanding musicians. Some of our members regularly participate in chamber music groups and occasionally give recitals. The orchestra meets in Dorking for  five rehearsals prior to each concert.
We have developed particularly successful relationships with audiences in St Nicolas Church, Great Bookham and St Martin's Church, Dorking. We regularly participate in the Mole Valley Arts Alive Festival, and collaborate with the Yehudi Menuhin School whose talented soloists have delighted our audiences with their concertos on many occasions. We also welcome opportunities to give orchestral experience to other local young musicians.
We are managed by a small group of our players and are members of the National Federation of Music Societies – Making Music. We are financed mainly by player subscriptions, ticket income and an annual grant from the Humphrey Richardson Taylor Charitable Trust, for which we are extremely grateful.
We are always interested in hearing about potential collaborative projects with soloists, choral groups, composers or other artists. If you are interested in working with us in the future, please get in touch via the contact form. We welcome enquiries from potential new members, especially string players. Opportunities also occasionally arise for wind players either to join the orchestra or to deputise when needed.
We also like to hear from our audience! If there is anything you would like to hear us play, please feel free to get involved in future concert planning by letting us know through the contact form on this site.