The Dorking Chamber Orchestra was founded by local conductor Colin Gray, who brought together local musicians to present music largely of the 18th & 20th Century. Colin, who had trained in conducting at Reading University, studied Haydn and particularly promoted his earlier symphonies and operas. The orchestra's inaugural concert took place on 24th April 1988 in the Lutyens designed Pixham Church, Dorking. The programme for that concert was the Magic Flute Overture by Mozart, Bach's Air on a G String, Handel's Water Music, Vivaldi's Concerto in D Minor for two oboes, and movements from Haydn's Symphony No. 83 "The Hen" which founder members will remember well. The Leader at that time was Ron Eason.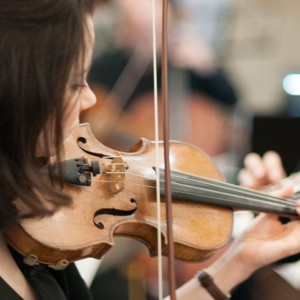 Early and founder members of the orchestra who are still active members include David and Hazel Jewel (flutes), Kathy Bucknill (oboe), Sarah Wright and Elizabeth Gee (violas). The orchestra has been supported by some distinguished local musicians. Ruth Dyson, who lived in West Humble and was Professor of Harpsichord at the Royal College of Music, was its Honorary President. She played solo concertos with the orchestra, and her husband Edward Thomas, nephew of the poet of the same name, was a local bassoonist and founder member.
Highlights of the early years included a concert tour of Suffolk churches. Several members of the orchestra also joined the European Associated Chamber Orchestra, also founded by Colin, in musical excursions to Haydn's place of work at the Esterhazy Palace in Austria, and in a concert tour of Switzerland playing the specially commissioned Schrodl flute concerto.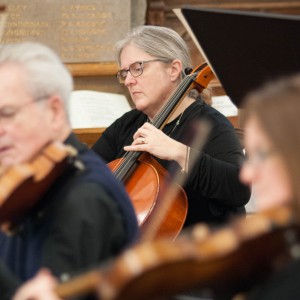 In more recent years DCO has diversified and is now run by a management team of its members. The orchestra also largely draws upon its members as
soloists, but also supports other solo performers from the local area. DCO is privileged to be directed by distinguished and experienced conductors from the local area as well as up-and-coming young conductors early in their careers. Over recent years we are proud to have worked with Andrew Morley, Peter Allwood, Peter Fender, Matthew Willis, Adrian Bawtree, Keith Willis and Michael Alexander Young.
We perform mainly in the local Dorking area and have developed particularly successful relationships with audiences in St Nicolas Church, Great Bookham and St Martin's Church in Dorking. We regularly participate in the Mole Valley Arts Alive Festival and regularly welcome soloists from the Yehudi Menuhin School.