Andrew Morley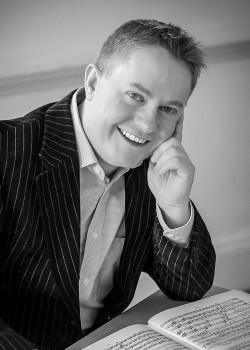 Andrew Morley studied conducting and orchestration with Denis McCaldin at Lancaster University and later gained a scholarship to study with Peter Stark at Trinity College of Music where he graduated with distinction and won the Ricordi Conducting Prize. He started his career with many ensembles in Lancaster, including symphony and chamber orchestras, choirs, choral groups and wind ensembles. At Trinity, his work included Aaron Copland's ballet Appalachian Spring with the TCM Sinfonia, Heinz Holliger's experimental study in breath, Pneuma, with the TCM Wind Orchestra, and a concert alongside the late Stanley Black with the TCM Symphony Orchestra. Other notable work includes Stockhausen's rarely performed Gruppen, an appearance with the National Youth Orchestra Sinfonietta, and the critically acclaimed Medousa: A Miniature Opera on which he worked as composer and musical supervisor.
Andrew has worked with soloists Wissam Boustany, David Owen Norris, Tim Jackson, Simon Blendis, Stephen Hough and has given the première of a new work for 'DJ' and ensemble by Gabriel Prokofiev. He has prepared music for renowned film composer Debbie Wiseman and conductor Barry Wordsworth, and has conducted rehearsals with the Barbican Young Orchestra. Future work includes engagements with the Norfolk County Youth Orchestra, the Wolsey Orchestra, the Hertford Symphony Orchestra and the Essex Chamber Orchestra as well as annual trips to European Youth Music Week. Andrew has held teaching posts at Lancaster University, Junior Trinity and Oxford Brookes University and maintains conducting posts with the Junior Trinity Symphony Orchestra, St. Paul's Sinfonia and the BBC Elstree Concert Band. In February 2004 Andrew was awarded first prize at the Allianz-Cornhill Musical Insurance Conducting Competition.  He is a Fellow of the Royal Society of Arts.
Peter Allwood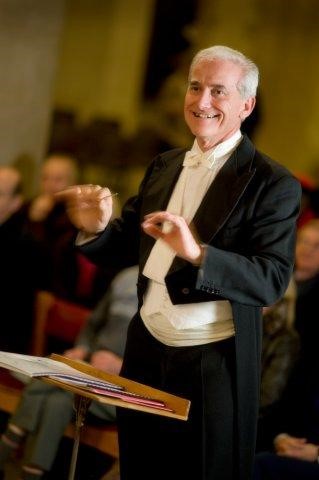 Peter read music at Kings College Cambridge, singing as a choral scholar under the direction of Sir David Willcocks and Sir Philip Ledger.  After a year's study in Durham, where he was conductor of the University Chamber Choir, he became Director of Music first at Leighton Park School in Reading, then Oundle School, Northamptonshire and, from 1985, at Christ's Hospital in Horsham.  During that time he conducted many operas and orchestral concerts, and worked with both adult and children's choirs, recording a number of CDs on the Guild and Carlton Labels.
Peter was a director of the National Youth Music Theatre from 1978- 2000, composing and directing many shows during that time.  His compositions for the NYMT include Bendigo Boswell (BBC TV 1983), Jack Spratt VC (Edinburgh Fringe First 1985), The Little Rats (Sadler's Wells 1989), Aurelius (Edinburgh 1997), and Pendragon (Far East, London, Edinburgh, Broadway, BBC TV, recorded on the TER Label).  Other compositions include The Dream of the Rood (1993), a sacred music drama commissioned by St Albans Abbey for their Twelfth Century Celebrations, and Out of the Mouths of Children (2011) for unaccompanied Double SATB and Children's Choir, commissioned for the Tagore Festival in Calcutta.
From 2001 to 2011, Peter was Headmaster of Lichfield Cathedral School, during which time it expanded from a prep school to an all-through, 3-18, coeducational school. He founded a girls choir in Lichfield which is now part of the Cathedral's Music Foundation.
After two years as Director of Music at the Dragon School in Oxford, Peter is now a freelance musician. As well as directing the Portsmouth Festival Choir, he is working on a number of composition projects, examining for the ABRSM, adjudicating various competitions and running choral workshops.
Peter Fender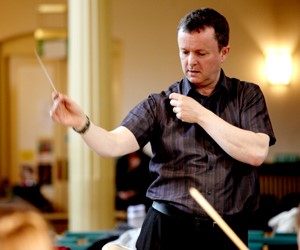 Acclaimed conductor, composer, and conducting teacher Peter Fender shares his passion for music with audiences and orchestras in his native England and beyond. Combining deep musical sensitivity, a strong stage presence, great motivational and communication skills, and a fine sense of humour he is becoming more and more in demand. He is currently Musical Director of Philharmonia Britannica and the Angel Orchestra in London, Mid Sussex Sinfonia in Sussex, and Opera Nova in Kent. He has conducted a number of other orchestras and groups in the UK, Italy, Bulgaria, and Romania.
Peter's musical career began as a violinist and violist. He has played principally with period instrument groups such as the Academy of Ancient Music, the London Classical Players, the Consort of Musicke and The Sixteen. He has been leader for many concerts, and directed a good number from the violin to boot. In 2006 his focus changed to conducting and since then he has studied with Michael Rose (MBE), Achim Holub, and Peter Stark (from the TV series 'Maestro'). He has participated in master classes in England, Italy, and Austria.
In 2007 he formed the orchestra Philharmonia Britannica. One reason for this was to create an orchestra which would regularly work with other art forms. PB concerts have subsequently included mixing live orchestral music with actors, poets, dancers, painters, live video displays, and even the great classical comedian Rainer Hersch! Through this Peter has been looking to draw in people who wouldn't be interested by a 'straight' classical concert, and also looking for some interesting syntheses and juxtapositions. He also seeks to remove the 'high brow' from classical orchestral concerts. To this end he often gives short explanations of the music, interspersed with humorous comments about composers, aiming to make the music of interest to those who have never attended a classical concert – as well as those who are seasoned concert goers.
In addition to attempting to attract new audiences by mixing music with other art forms, Peter plans and performs children's concerts with Mid Sussex Sinfonia, the Angel Orchestra.
Peter teaches conducting on courses and workshops in London.  There are courses for those new to conducting (including non-musicians), courses focusing on a great piece of music (e.g. Beethoven 9), and weekend workshops with orchestra for more experienced conductors.
As a composer Peter has now written a variety of works for different sized groups.  See the Compositions page for details.  Peter strives to create music that is accessible to both players and audience but which are also compositionally interesting.  A number of his orchestral works are on a CD released in 2012 – please visit the Sales page for more information.  Scores are also available for perusal/hire.
Peter has a blues harmonica which he hopes to learn one day!