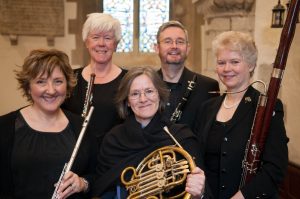 Janina Byrne, Kathy Bucknill, Andrew Meredith, Jo James and Cathy Jenkins will be taking part in St Martin's Music at Midday series at 12 noon on Saturday 7 October in St Martin's Church, Dorking.
The programme will be:
Mozart: Divertimento No. 9
Ligeti: Bagatelles
Bizet: Jeux D'Enfants
Do come and hear us.  We are thoroughly enjoying rehearsals – and the Ligeti is great!