Clare Kennington's career is developing extensively in 2018, and although we do expect to have her playing with us in the future we are now looking for a new leader. For more information see the attached link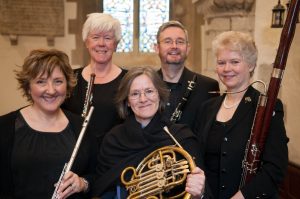 Janina Byrne, Kathy Bucknill, Andrew Meredith, Jo James and Cathy Jenkins will be taking part in St Martin's Music at Midday series at 12 noon on Saturday 7 October in St Martin's Church, Dorking.
The programme will be:
Mozart: Divertimento No. 9
Ligeti: Bagatelles
Bizet: Jeux D'Enfants
Do come and hear us.  We are thoroughly enjoying rehearsals – and the Ligeti is great!